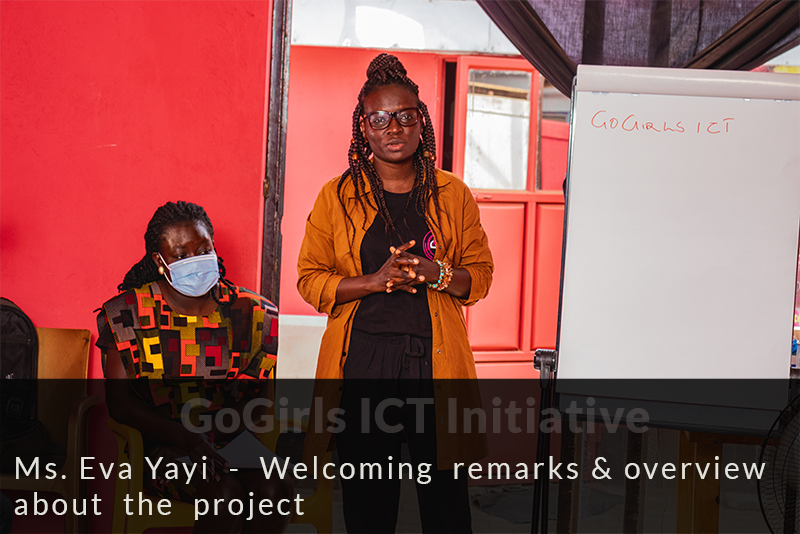 Time To shine ICT #TTOSICT 2021/2022 Project Proposed Curriculum for Mentorship
Kick-events have been central to the success of theTime to Shine ICT #TTOSICT project at the initial stage for the past five years to promote collaboration between parents and teachers to encourage student participation.
This one-day event presented the proposed curriculum: Scratch programming, IoT (IoT), Urban Planning, and the Open Science Framework for classroom experimentation, and during this session, the GoGirls team pointed out what they envisioned for this project, such as;
Computer-literate students

Teamwork among learners

Interactive learning

Critical Thinking & business modeling skills

Knowledge on how to come up with models for urban planning  

Diversification of knowledge

Flexibility in the learning environment

Exposure to different STEM careers

Have the relevant knowledge of the real-world application of some science concepts such as IoT, #ClassroomOnPhone, and Scratching Programming.
Consequently, the GoGirls team and nine teachers from primary and secondary schools within Juba exchanged ideas and knowledge on possible Science, Technology, Engineering, and Mathematics (STEM) activities for the selected students from their respective schools.
Over the years, the #TTOSICT Project became a platform for teachers from various schools to discuss challenges they faced with students, learn from each other, and collaborate on relevant #STEM projects among themselves. Hence, in three different groups, the teachers highlighted the challenges they faced when teaching sciences in schools and what they envisioned?
 The teachers categorically shared their challenges as:
A negative perception of the use of ICTs in our communities.

Lack of training of teachers on ICTs 

Lack of computer Labs and ICT resources in most schools explains why even schools, up to today, type and print their exams at different computer centers.

Language barrier, in most cases Arabic – pattern.

The new textbook framework has outdated technology and programming languages.

The new textbooks are very shallow and lack substantial content.

Girls are not encouraged to take ICT as a career because some parents still look at ICT as a male profession.
What they envisioned for this project included;
Students should be able to use science apparatus to pass information.

Be able to apply scientific knowledge to respond to daily needs

Students, especially girls, should use ICT Knowledge to promote businesses and use this knowledge to advance their careers in Technology.

Students should be able to apply Mathematics in their daily lives.

To promote individualized learning to respond to the child's ability and personality.

Collaborative learning. 

Enable economic growth by broadening the reach of technology such as high-speed internet.

Teachers still take out exams for typing at different computer centers within Juba because they lack computers.

Internet for schools.

We as teachers know that computers are for boys – Girls need to be encouraged to take ICT as a career.

The relevant authorities should be hosting experts to tell the public about the importance of ICTs.

We still need more awareness on the different media platforms on the importance of ICTs.

The relevant partners should train teachers on the new curriculum to adapt accordingly.

It's good to revise the syllabus of South Sudan for primary and secondary schools again. Most countries have developed because of integrating technology with other subjects such as economics, commerce, accounts, and agriculture, among others.
From this engagement, the GoGirls team will take critical actions to engage with the relevant policymakers, continue to innovate in this field, and collaborate with communities on projects that benefit these communities, teachers, and students at large.
This project is supported by UNDP South Sudan Peace and Community Cohesion (PACC) Project with funds from Sweden.