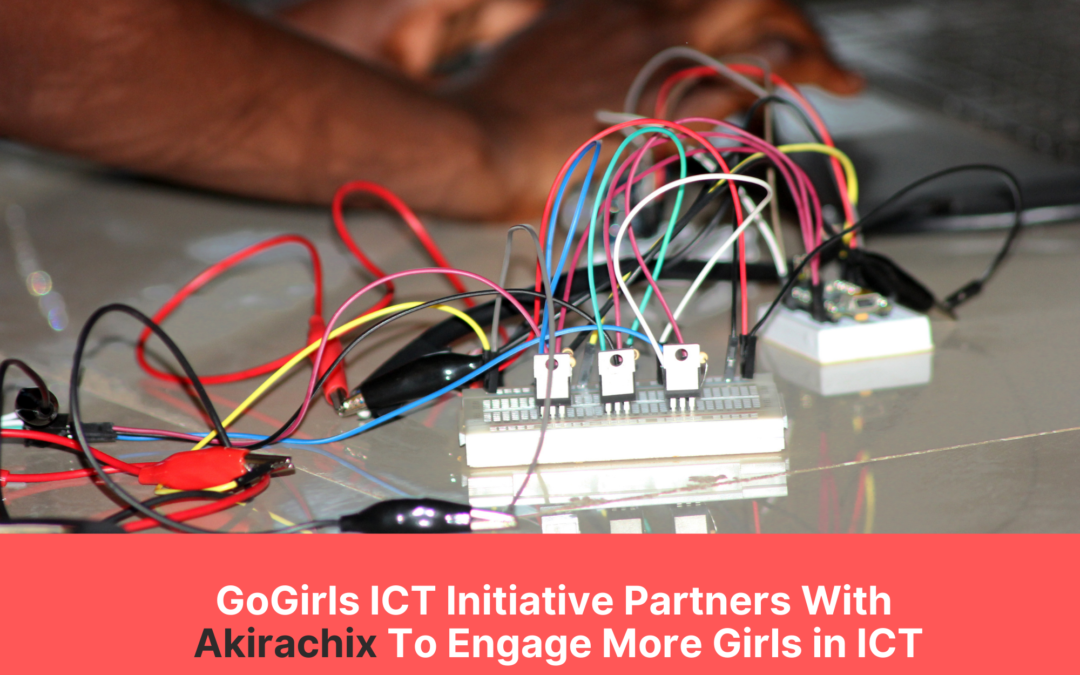 GoGirls ICT Initiative Partners With Akirachix To Engage More Girls in ICT
For the past five years, we have been implementing the Time To shine Information Communication Technology (#TTOSICT) mentorship program that aimed at Engaging, Educating, and Empowering youth, especially girls in primary and secondary schools to spark their interest in doing science at the secondary level and increase their chances of doing courses in the fields of  Science, Technology, Engineering, Mathematics with the integration of Arts  (STEAM). As a result of these efforts, the girls who were involved by then at the age of 11 years old in Primary Five have now joined secondary schools within Juba, and those in Secondary completed their South Sudan School Certificate in 2019. Most of these girls too were beneficiaries of our GoGirls Sponsorship Initiative to support them in school for one year as long as they continued to participate in this program.
To encourage and keep these girls engaged in this program throughout, we reached out to their schools, families, and communities through the Family Visit Program that has become an integral part of all our projects and programming.
One of the most common questions raised by the teachers, families, and communities of these girls is: "what is next for them after secondary school especially to parents who are economically challenged and girls who are vulnerable?." To answer this question; GoGirls ICT Initiative has collaborated with Akirachix to put synergies together so as to support girls who have completed their South Sudan Secondary school certificates in 2019 to be part of their AkiraChix codeHive 2022 recruitment program.
AkiraChix was founded in 2010 by a group of women who were passionate about changing the landscape of the technology field and creating a community that supports, connects, and inspires women in the tech space. These young women challenged the status quo by encouraging and facilitating more women to take up careers in technology-related fields. Its vision has continued to be led by Linda Kamau and Marie Githinji, who have committed to champion the diversity and inclusion of women in the technical workforce, changing the economic capabilities of young women as well as shifting societal norms. AkiraChix has come a long way from its beginnings, where it trained young women from Nairobi in a bus fitted with computers to a fully-fledged residential campus to serve young women from all over Kenya and other African Countries. Read more about AkiraChix: https://akirachix.com/
codeHive is the AkiraChix signature program. It is a one-year fully subsidized residential hands-on technical training program. It provides education and economic opportunity to young women between the ages of  19 and 24  from socio-economically disadvantaged backgrounds who have completed high school education, and are unable to further their education due to financial constraints.  
After expanding from Kenya to Rwanda and Uganda in 2021, AkiraChix will also expand to Tanzania and South Sudan in 2022. It is also seeking promising young women from refugee communities across these countries. 
According to Women in Technology statistics, Women currently remain highly underrepresented in software engineering (14% of the total workforce) and computer science-related jobs (25% of the total workforce). Female software engineer hires have only increased 2% over the last 21 years.
Through this collaboration, GoGirls ICT Initiative is one of the approved Test Centers that will provide the applicants with dedicated computers and internet to apply for this program and also use their networks to help Akirachix reach more young women to build careers in technology in South Sudan to transform their lives and communities. We constantly commit to breaking societal barriers limiting girls from doing careers in ICT and continue contributing to bridging the gender digital divide gap. Such opportunities and exposure are what these girls need. The fact that South Sudan Joined the African Telecommunications Union (ATU) as its 49th member state presents vast opportunities in this sector that we want more women and girls in South Sudan to be part of the decision making and implementation of technology-related projects.
For more details on the application process visit www.akirachix.com/apply
Application Deadline: October 15th, 2021 11:59 PM EAT
Please visit our office: 
88.4 City FM Compound, Suk Melisia, Munuki –  Juba, South Sudan.
Reach us through:
Email: application@gogirlsict.org 
Mobile: +211922407200
Facebook: GoGirls ICT Initiative
Twitter: @gogirlsictjuba
Instagram:@gogirlsictinitiative